The Jeffrey R. Ralston Foundation provides support to selected Criminology majors through the Jeffrey R. Ralston Foundation Scholarship based on financial need and academic achievement. Scholarship recipients are selected through a competitive application process governed by the Criminology faculty.
Established by the late Betsy Ross Ralston Brooks `49, the Jeffrey R. Ralston Foundation was created in memory of her son, Jeffrey R. Ralston, a law enforcement officer in Monmouth County, NJ, who died in 1994 at age 33. Ralston was a police officer for nine years with the Neptune City Police Department, a member of the Police Benevolent Association (PBA), a member and past president of the Neptune City Police Officers Association, president of the Monmouth County Traffic Officers Association, former member of the Ocean Grove First Aid Squad, and member and former captain of the Washington Fire Company,
Twice, he was named Police Officer of the Year by Ocean Grove/Neptune Times, and was also twice acknowledged by the Valor Award Committee for PBA Local 50. He received its Meritorious Service Award for the, "cold water rescue of two youths who fell into the Shark River, and the Honorable Service Award for "the apprehension of three…possible suspects in an armed robbery." "Obituaries," Asbury Park Press, 26 April 1994, p.20, Newspapers by Ancestry (https://www.newspapers.com/image148443684/:downloaded 23 September 2020).
Betsy Ross Ralston Brooks directed this Foundation to support scholarships for aspiring Law & Justice (now Criminology) students. Upon her death in 2000, she arranged for her estate to be transferred to the Jeffrey R. Ralston Foundation.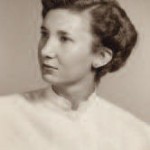 Betsy Ross Ralston Brooks '49